PROBE:

 Als ultraportable 

All-in-One-Lösung

 kann sie schnell im Netzwerk bereitgestellt werden, um die 

Echtzeitüberwachung

 zu starten. Entweder an einem bestimmten Ort in einem Rechenzentrum oder in einem Büro oder an einem Ort, an dem der Fernzugriff möglich ist.

CAPTURE:

 Dank der hervorragenden Performance und der internen 

Speicherung von 1 TB

 werden die Netzwerkrohdaten unabhängig von der Paketrate und -größe 

direkt

 auf dem Gerät gespeichert. Um den zu erfassenden Datenverkehr einzugrenzen, stehen

l

eistungsstarke

Hardwarefilter

 

zur Verfügung.

ANALYZE:

 IOTA integriert seine leistungsstarke Traffic Analysis Software und bietet die Möglichkeit, 

flow-based Analysen

 oder 

PCAP-Dateien

 mit verschiedenen Auswertungen wie Application Performance Monitoring, Bandbreitennutzung, Latency, Top-Talker, TCP Troubleshooting und mehr durchzuführen.

SECURITY:

 Die Netzwerkports von IOTA sind von den anderen Schnittstellen, dem internen Speicher und der Analyseverarbeitung isoliert. Dies 

schützt Ihr Netzwerk

 vor Angriffen von außen und ermöglicht dennoch die 

vollständige Netzwerksichtbarkeit und -analyse

.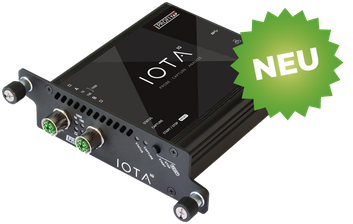 Features
10/100/1G line-rate traffic capture
Dedicated probe and analysis capabilities
Programmable autonomous capture functions
Remote access and management
Non-intrusive monitoring
SPAN and In-Line modes
8 ns hardware timestamp
Packet slicing
Real time statistics
Low level error and bandwidth monitoring
Invisible to the network
PoE+ passthrough
2 TB internal storage
Real Time Traffic Analysis
Out of the Box wird der IOTA mit seiner eigenen integrierten Software geliefert, um die erfassten Daten in Echtzeit zu analysieren. Durch Extrahieren von Metadaten aus den erfassten Dateien ist IOTA in der Lage, Ihnen einen Echtzeit-Überblick darüber zu geben, was in Ihrem Netzwerk geschieht. IOTA-Dashboards helfen Ihnen dabei, große Mengen an Netzwerkverkehr sofort zu filtern, was Ihre Arbeitsabläufe erheblich optimiert und die Zeit für Fehlerbehebung reduziert.
Der IOTA 1G ist auch mit M12 X-Coded-Anschlüssen erhältlich, die sich ideal für den Einsatz in industriellen Umgebungen eignen.
---